Small Group Ministries are crucial to many urban churches.  St. John's is no different.  Interested in joining an existing group or starting a new small group?  Connie would be happy to help you figure it out!
Spiritual Friends
(Meets Mondays at 5:30pm online)
Sometimes Bible Study, sometimes theology study.  Always good discussion.
St. John's Book Club
(Meets the 3rd Wednesday of the month Sept 2023 -May 2024)
"The Thursday Murder Club", Richard Osman

"Ducks: Two Years in the Oil Sands", Kate Beaton
"Entangled Life", Merlin Sheldrake
"Imaginable", Jane McGonigal
"The Myth of Normal", Daniel and Gabor Mate
"The Sister's Tale", Beth Powning
"The Dictionary of Lost Words", Pip Williams
"The Glass Hotel", Emily St. John Mandel
Manna for Health
A special needs food program whose purpose is to assist in meeting the needs of people living with  HIV and other life threatening illnesses.
For more information, please see our full brochure.
GSAs are explicitly safe spaces for 2SLGBTQIA+ people and their allies.  Our GSA is relatively new, but we plan to build community, educate and provide opportunities for advocacy.
Sunday School
(Meets each Sunday during worship)
Each week we talk about the lectionary readings from a family point of view and do a craft or play a game together.  We like the Godly Play stories, but you never know how the story will be presented!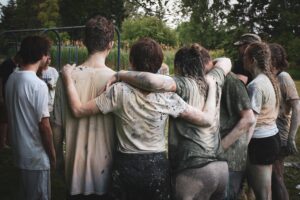 (Meets every second Sunday at 5-7pm)
If you're between the ages of 12 & 18, join our Youth Group which meets at 6025 Stanley Street on Sundays from 5:00 – 7:00 pm (dinner is included!). Contact Kathy or Jacob Ritchie for more information
The Youth Group is looking for people to provide dinners for our Sunday evening meetings. If this is something you feel you are able to do once a year or once a week, please contact Kathy or Jacob for more details.
Adult Choir
(Rehearsal Thursdays at 4:00 pm, Sunday warm-ups at 9:30am)
For more information about joining the choir, email Ray.
Bell Choir
(Rehearsal Thursdays at 5:45 pm, Sunday warm-ups at 9:30am)
For more information about joining the choir, email Ray
When St. John's decided to take on a second refugee family, the "Refugee Working Group" was established. Our two families are thriving in their new community.